"All you need to paint is a few tools, a little instruction, and a vision in your mind ." - Bob Ross
Luminar is a universal photo editing software application developed by Skylum and available for Windows and macOS. Luminar works as a standalone application and as a plugin for Adobe and Apple products. It integrates with Adobe Photoshop, Adobe Photoshop Elements, Adobe Lightroom Classic, and Photos for macOS.
You can find more information on Luminar using my affiliate link: Luminar Neo
I was a guest speaker on Luminar Coffee Break, discussing how to turn a photo into a photo painting using Luminar Neo software.
With Luminar Neo, you can turn a photo into a painterly look without learning to use a mixer brush!
The results are more immediate without losing detail and artistic expression.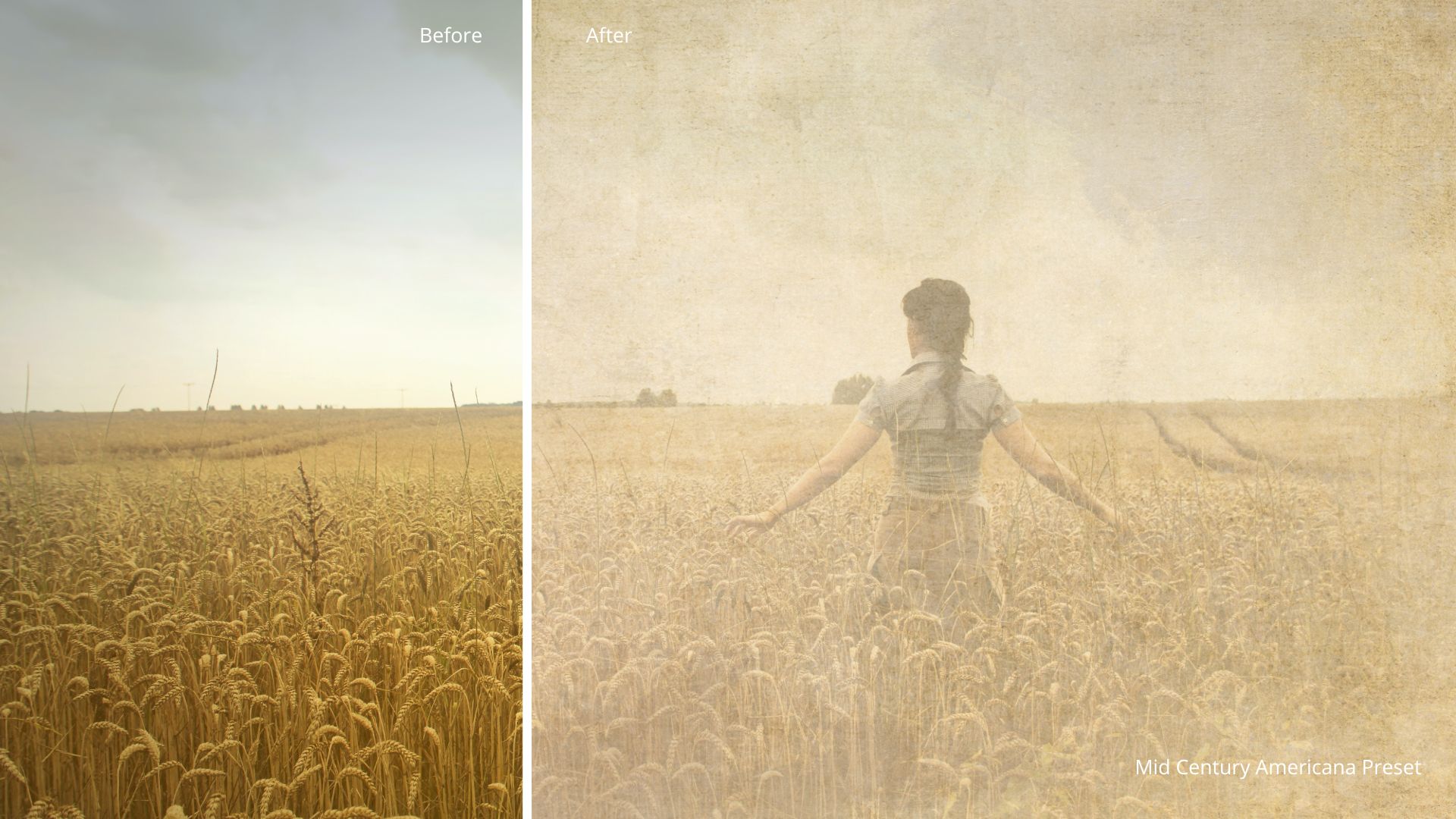 Editing your digital images is an important step in any good photo workflow. Taking pictures doesn't end when you press the shutter button; it ends with your final edit.

- Carly Sullens
Learn How to Turn a Photo Into a Digital Photo Painting Video
Use the video link below to watch how to turn a photo into a digital painting using the editing software Luminar Neo.
You can find more information on Luminar using my affiliate link:
---
How to Create a Painterly Look Digitally from a Photograph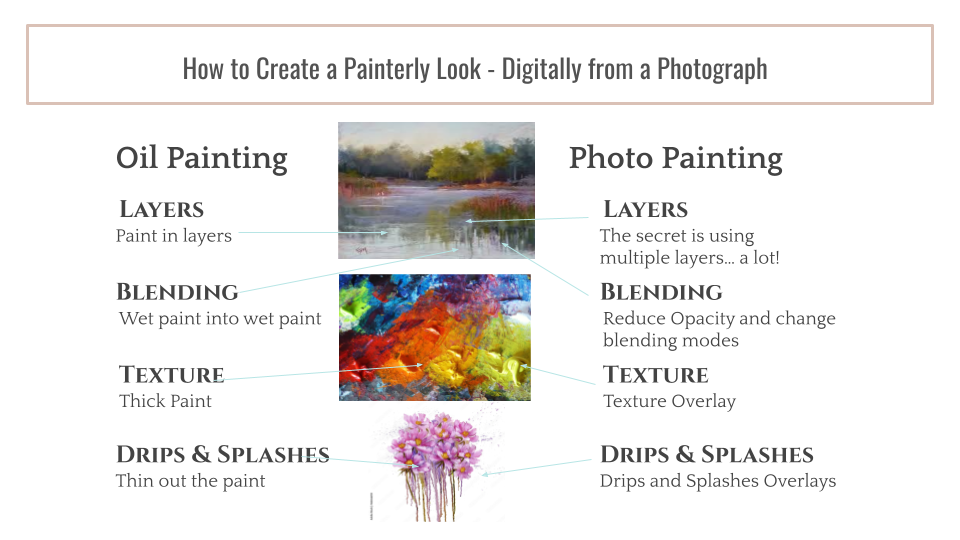 When creating a painterly look from a photograph there are important painterly qualities that need to transcribe digitally. These include, painting in layers, blending, and texture. Optionally, you can add drips and splashes.
Paint in Layers
The number one advice I could give any new digital photo painter is to paint in layers. This is how artists paint on a canvas. Painting in layers will create depth and more interest to your digital photo paintings. The painterly look is achieved with multiple layers, textures & overlays: changing opacity and blending modes. The artistry is the layers you use and how you assemble and blend the layers.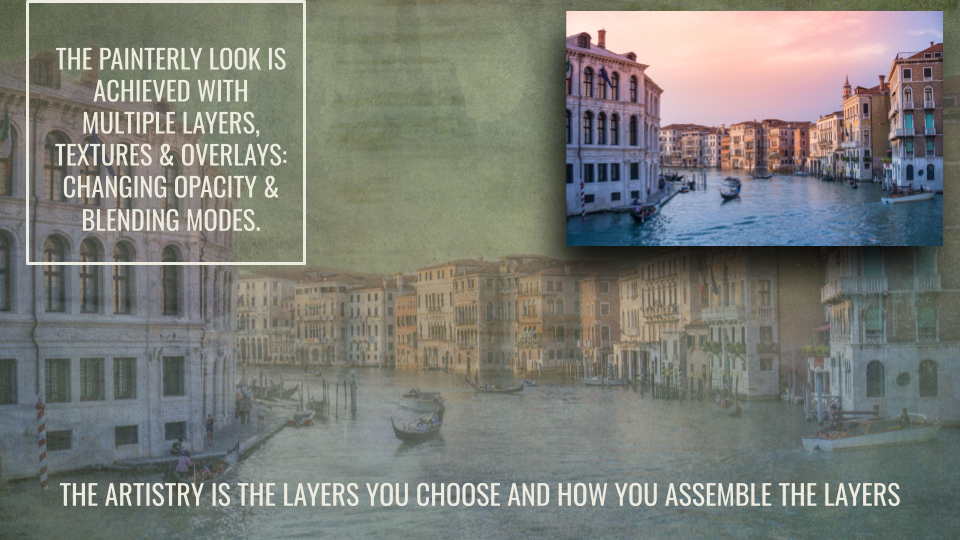 ---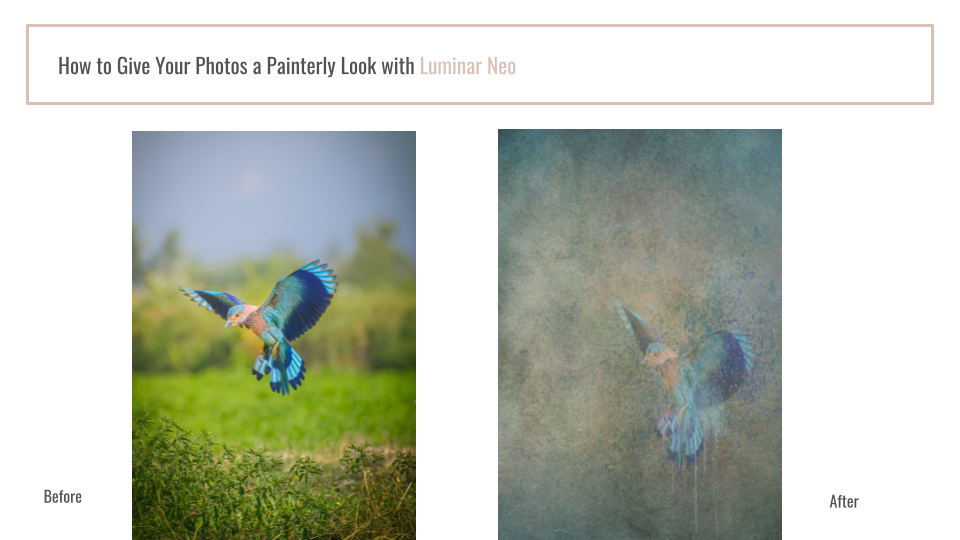 Digital Photo Painting Step by Step with Luminar Neo
Photo

Start with any photograph. If the photograph needs any editing, you would want to edit your photo first. This would include, white balance, lens correction, blemish removal, etc.

Masking

Extract the subject. You can use Luminar's Enhance AI to mask your subject. This could be done several ways depending on your subject. You might have to use the brush tool to fine tune the AI. The goal is to have a clean image of your subject and nothing else.

Background

Select a painterly background. I try to choose backgrounds that have a similar color harmony to my subject. This could be a background that you digitally painted yourself or own that you found online. You can purchase painterly backgrounds here.

Layer

Place your subject on a layer above your background. Use the opacity tool and bring it down. This will allow the background to come through a bit on the subject. By doing this you will begin to give your subject a painterly look, instantly. Change the opacity percentage until it you get the look you want.

Overlays

Adding painterly looking overlays is where your digital photo painting will begin to take shape. You can choose different overlays to enhance your image. Do you want it to look like wet, drippy paint? Then add drip overlays. Do you want it to look like a crackled old painting? Then add a crackled overlay. You can also reduce the opacity on the overlays.

Composite

Lastly, you want to composite all the layers by changing the opacity and blending modes of each layer until it looks like you want it too. Sometimes, you want know what the outcome will be until you start to move and change things. This is where the artistry comes through.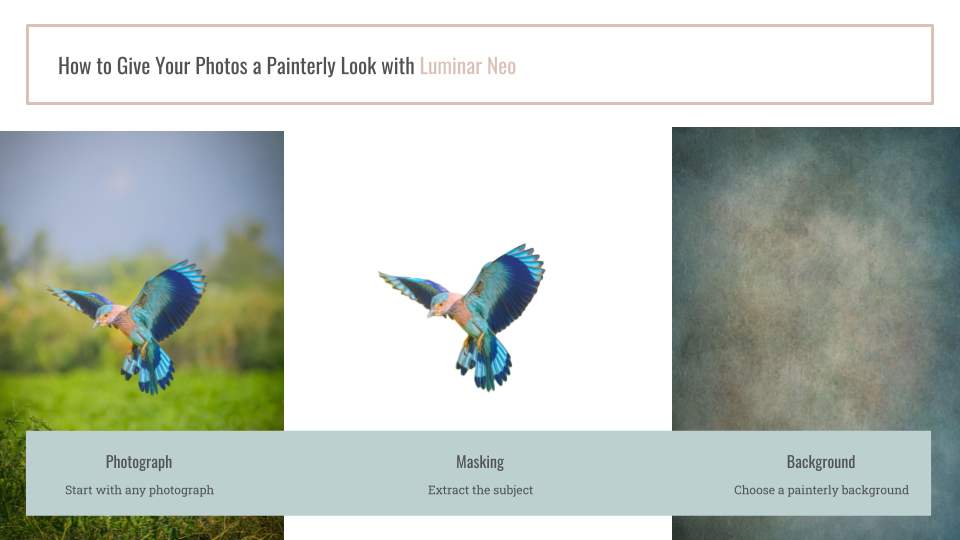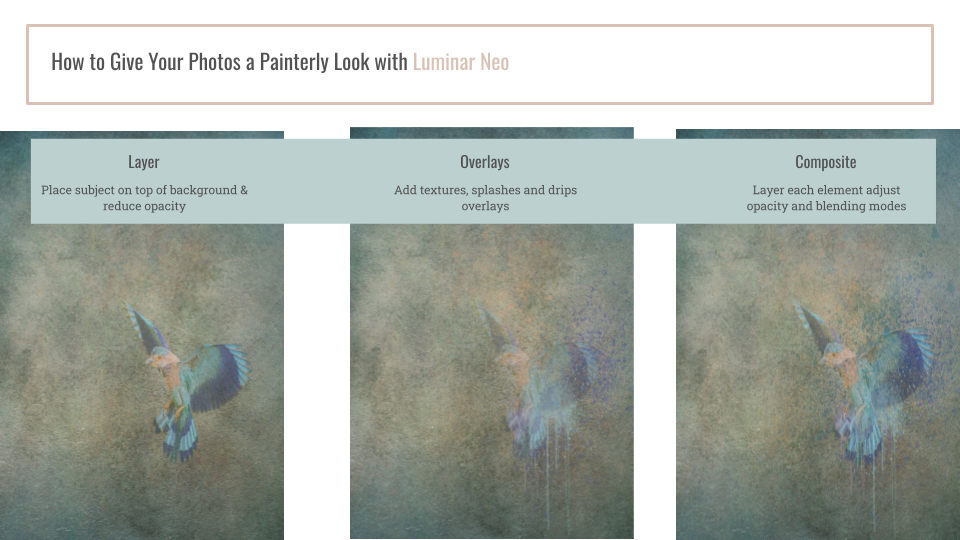 Creative Strategy
There is creative strategy when giving your photos a painterly look. You want to keep in mind fundamental art concepts. First, you want to be aware of color harmony. Color harmony combines colors in an aesthetically pleasing way. Here is a tip. If an overly, or drip you want to use is the wrong color, use hue saturation to change the color. Since it is on it is own layer you can adjust color, contrast, luminance, etc.
Next creative strategy, you want place more details and increase color slightly where you want the viewer to focus. This will help create impact and pull the viewer's eye to the subject.
Remember, less is more. It's multiple subtle adjustments added up that make an impact. I try not to do too much with one layer, but create multiple layers. This also will create more interest and depth.
Lastly, creativity is a process. Try new layers, change blending modes, opacity, make things bigger or smaller. Allow yourself to be playful. This is where creativity soars and can take on a whole new direction.
---
➡️ Follow Me on Instagram for coupons, tips and inspiration.